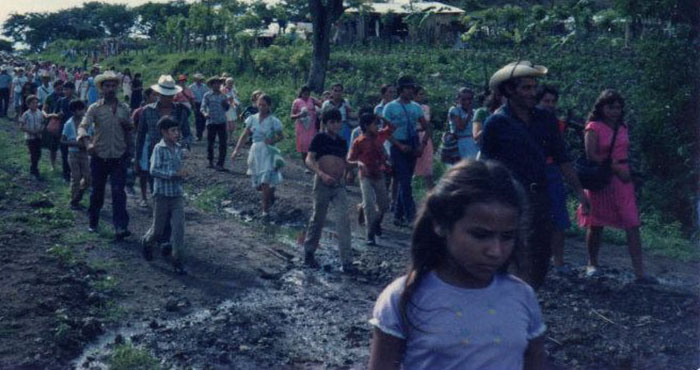 Refuge and Return - Stories of a Resettled Community in El Salvador
Browse Collection
About
Refuge and Return: Stories of a Resettled Community documents the history behind a rural community in northern El Salvador that was repopulated by refugees of El Salvador's civil war (1980-1992). A team of young people from Guarjila, El Salvador proposed and led the project, working together with students from California State University, Northridge (CSUN) to produce, edit, translate, and prepare the contents of the collection for publication. Former refugees of Guarjila, who were video interviewed by the team of young people from the community, generously offered oral histories of their experiences of the civil war, their return to El Salvador, and their resettlement of Guarjila. Anthropologist Joseph Wiltberger and CSUN graduate Carlos Baltazar Flores served as supervisors and coordinators of the project teams and as co-editors of the digital books and collection.
The community of Guarjila, along with several other surrounding communities in the department of Chalatenango, was resettled in 1987 by thousands of Salvadoran refugees who had been living in the Mesa Grande refugee camp in Honduras since the early 1980s. The refugees had fled from the brutal violence of Salvadoran military operations in northern El Salvador. The return to El Salvador of more than 7,000 refugees from Mesa Grande in 1987 was among the largest refugee repatriations in Latin American history. It was extraordinary for two reasons: it was autonomously organized by refugees themselves and it took place during an active conflict. Through this collection of oral histories and photographs contributed by former refugees who resettled Guarjila, Refuge and Return aims to document, make visible, and commemorate historical memories of the civil war, the Mesa Grande refugee camp, and the repatriation and resettlement of refugees in Chalatenango.
This digital collection features the oral histories, transcripts, and photographs from the project. In addition, Refuge and Return consists of two digital books, one in Spanish and one in English that contain important contextual information about the project and its subject matter, including an extended introduction, a chapter on community history, and a complete list of the many project contributors.