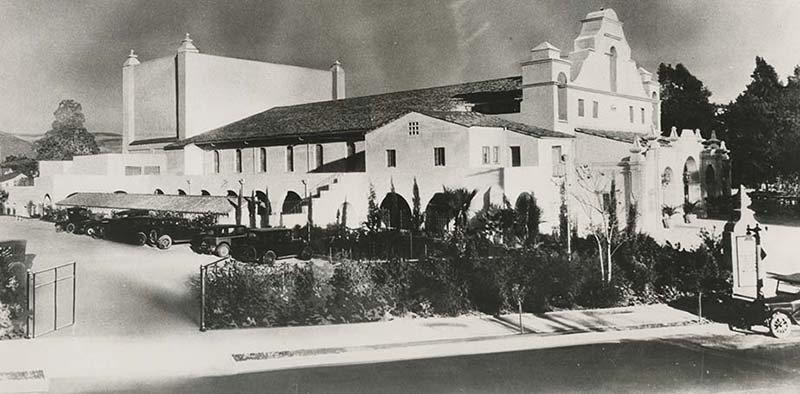 San Gabriel Mission Playhouse
Browse Collection
About
The historic San Gabriel Mission Playhouse was constructed in 1927 specifically for The Mission Play, which told the story of Father Junípero Serra and the founding of the California Missions. Written by Congressman, LA Times columnist, and California poet laureate John Steven McGroarty, the play was seen by more than 2.5 million people during its twenty-year run at the Mission Playhouse. After the play closed in 1932, the Mission Playhouse was leased and used as a movie theater for thirteen years. In 1945, the City of San Gabriel purchased the Mission Playhouse, thanks to a group of dedicated residents who garnered enough support to get a ballot proposition added and passed. Since then, it has been a center of arts and culture in the community known as 'The Mission District'. Added to the National Register of Historic Places in 2019, today the Mission Playhouse hosts classic film screenings (with live accompaniment on its 1924 Mighty Wurlitzer theater pipe organ), local music, dance, theater performances, award shows, and other special events.
The Mission Playhouse was able to digitize this collection with support from the LA as Subject Residency Program and California State University, Northridge, University Library. Currently this collection is housed at the Mission Playhouse. The collection consists of over 150 items: photos, programs, booklets, scripts, newspaper clippings, and correspondences from the 1910s through the 1970s. There are fifteen seasons of Mission Play programs including one from the play's second season in 1913, when the production was housed at the first Mission Playhouse, located a block east from the current theater at what is now known as Plaza Park, which is located directly in front of Mission San Gabriel Archángel. In addition, there are over a dozen show programs from 1946, these give a glimpse at the types of events on stage the year after the City purchased the Mission Playhouse. We hope you enjoy our collection which represent the unique history of the Mission Playhouse, its founding, and its early programming.
This project was made possible in part by the Institute of Museum and Library Services through IMLS Grant RE‐85‐18‐0110‐18.