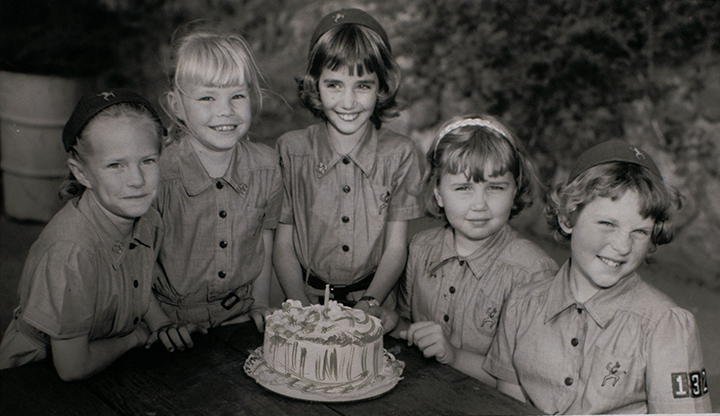 Hometown Heroes: Girl Scouts of the Crescenta Valley
Browse Collection
About
The Girl Scouts of the United States of America is a non-profit youth leadership organization for girls that was founded by Juliette Gordon Low in 1912. The organization empowers girls through community service and the development of practical life skills. In addition to earning badges for practical skills, Scouts can earn Gold, Silver, and Bronze Awards through individual projects which demonstrate their leadership skills and commitment to their community.
This collection was digitized and described by Ambassador Girl Scout Annie Brundigie for her Gold Award Project with support from the LA as Subject Digital Residency Program and California State University, Northridge, University Library. The Gold Award is the highest level award given to Girl Scouts. The collection belongs to the Girl Scouts of Greater Los Angeles - Service unit 407, Crescenta Valley/Glendale and is housed at the Girl Scouts of Los Angeles, Montrose Program Center.
Hometown Heroes: Girl Scouts of the Crescenta Valley documents the activities of Girl Scouts in Glendale, California from the 1930's through the 1990's. It primarily consists of scrapbooks compiled by Girl Scout Troops and individual Scouts. The scrapbooks contain photographs, newspaper clippings, correspondence, and ephemera which document the Scout's participation in skill building activities, Girl Scout Senior Roundup trips, and other Girl Scout related events and ceremonies. The collection also contains instructional handouts used by Girl Scout Troop leaders to design activities focused on gaining camping and cooking skills.
This project was made possible in part by the Institute of Museum and Library Services through IMLS Grant RE‐85‐18‐0110‐18.