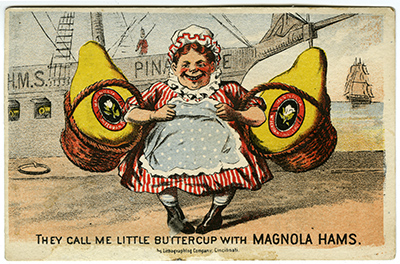 Gilbert and Sullivan Advertising Cards
Browse Collection
About
Trade cards are small, rectangular cards that typically have promotional text on one side, and a decorative image on the other side. These cards first became popular in the late 17th century in major European cities, and became extremely popular in America beginning in the late 19th century. They functioned as both advertisements and maps that directed eager customers directly to a store that was selling the item, as the location was usually listed on the back of the card. The cards were usually distributed either in product packaging or by travelling salesmen.
The David Trutt Gilbert and Sullivan Collection contains an interesting collection of trade cards that use characters from popular British operas to advertise different products. While the cards were originally collected for their portrayal of the famous partnership between librettist W.S. Gilbert and the composer Arthur Sullivan, the cards themselves provide a unique glimpse into late 19th and early 20th century American cultural values and interests. The cards in this collection advertise a variety of companies and products, including (but not limited to): six-cord cotton thread, cigarettes, soap, and all-purpose cleaner. However, the majority of the Gilbert and Sullivan advertising cards consists of cigarette cards specifically advertising John Player & Sons, a well-known tobacco company in Great Britain and Ireland in the 19th century.
Digital imaging and processing by Megan Ozeran and Sarah Jones. Resource description by Sarah Jones.