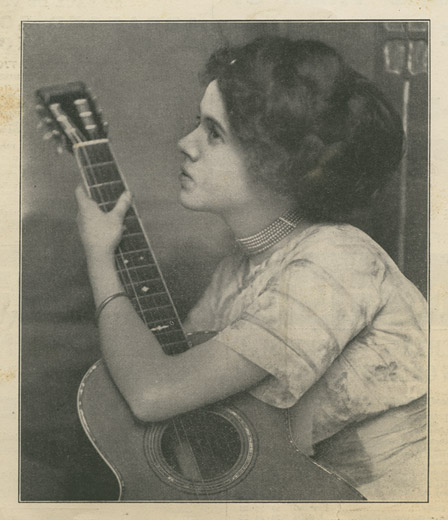 Vahdah Olcott-Bickford Correspondence (IGRA)
Browse Collection
About
As founder of the American Guitar Society in 1923, Vahdah established a mission to promote the "classic" guitar through education, publications and new compositions for the instrument in an era when the guitar was gaining prominance within popular dance idioms. This collection traces her career as a classical guitarist, composer, teacher, author, publisher and astrologer, and demonstrates her reach of influence well beyond her Los Angeles home to include musicians, composers, publishers, teachers and students from around the globe.
Unique to this correspondence collection are copies of many of the letters Vahdah wrote as part of her business activities. This enables researchers to trace the chain of correspondence. Where applicable, links are provided in the descriptions under the headings "Is Replied by" and/or "Is Reply to". In addition, Vahdah inherited letters from some important figures in the guitar community, which are partly represented here.
View collection highlights written by IGRA founder, Dr. Ron C. Purcell
Biography
Ethel Lucretia Olcott was born on October 17, 1885 in Norwalk, Ohio. She was three years old when she and her parents moved to Los Angeles, California. At the age of eight she started guitar lessons with George Lindsay, a well-known classic guitarist. From 1903-1904 she lived in Berkeley with Manuel Y. Ferrer, where she expanded her repertoire to include European guitar techniques. In 1914 she moved to New York where she gave concerts and lessons, and assisted Philip J. Bone with the publication of his book The Guitar and Mandolin.
She married Myron Bickford (Zarh), a well-known mandolinist and astrology enthusiast, in 1915. Once married, they both changed their names to Vahdah and Zarh Bickford. Vahdah was well known in the world of astrology. Astrological enthusiasts from various parts of the country would request astrology readings from her.
When she returned to Los Angeles in 1923, Vahdah, along with other local guitarists, started the American Guitar Society (AGS), then known as the Los Angeles Guitar Society. She was a major contributor to the AGS and The Crescendo ­­­­­­­­­­­­­­­­­­magazine, and was the secretary and Musical Director of the AGS for many years. As secretary she would receive personal and professional correspondence from all over the world. As a passionate contributor of AGS, Olcott-Bickford and her husband combined their names to make the Zarvah Publishing Company. Zarvah Publishing Company worked together with AGS to provide new and renewing members with published music every year.
An avid teacher of the Guitar, Olcott-Bickford is well known for her influential Guitar Method, Op. 25, and the Advanced Course, Op. 116. Olcott-Bickford also wrote numerous articles about the guitar, and corresponded with other musicians and enthusiasts about the instrument.
She continued to live in Los Angeles, and when Zarh Bickford passed away in the 1961, she was devastated. She later remarried Robert Revere, once again changing her name to Vahdah Olcott-Bickford Revere. Olcott-Bickford played guitar, and was associated with the AGS and the Astrological Society until her death in 1980. Over the course of her long and prominent career, her work influenced guitarists around the world.
To inquire about our holdings of these and similar collections please visit the University Library Special Collections and Archives.