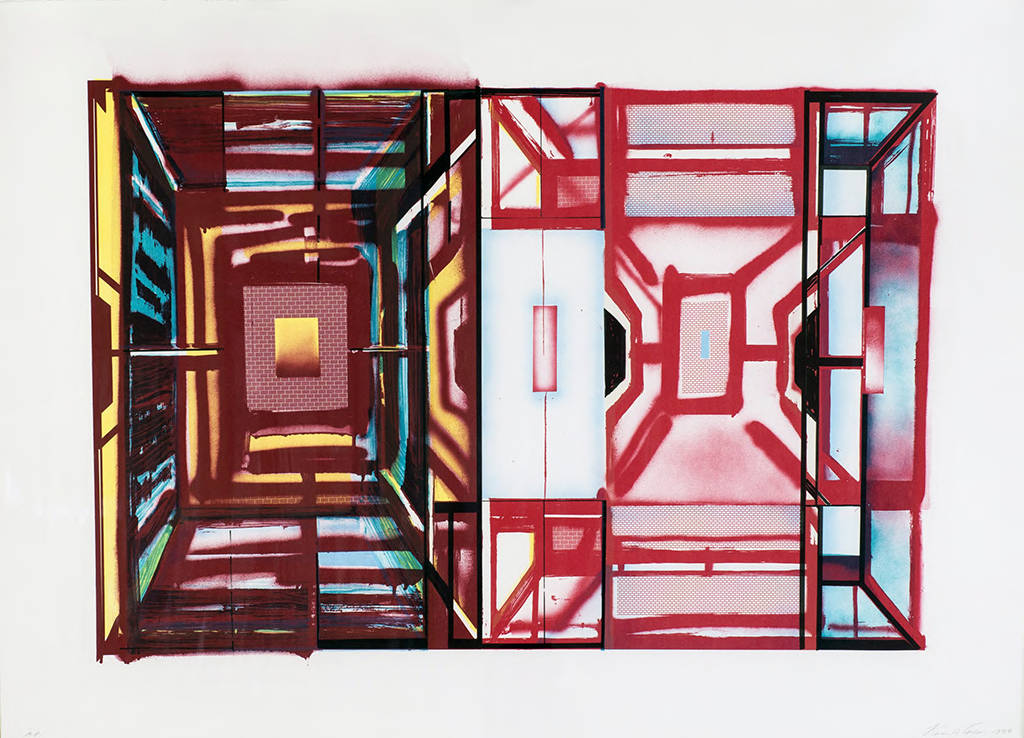 Unlikely Conversations: Selections from the University Art Collection
Browse Collection
About
When the University Foundation Art Collection Commission was established in 1974, its six original members drafted its mission: to encourage learning and research for students, faculty and local community members, and to enrich CSUN's campus by loaning works to publicly accessed spaces. Selecting works for Unlikely Conversations was both a formal and intuitive process that kept this mission in mind, including artworks by emeritus faculty and esteemed alumni as well as artists from the San Fernando Valley, greater Los Angeles area and beyond. Considered in a dialogue of sorts with one another, each work reveals more about itself when paired with a seemingly incongruous work, whether of different eras, media or styles.
Karen Carson's abstract gouache and watercolor on paper "Pink Zag" (1978) and Maynard Dixon's oil on canvas "Nevada Hillside" (1935) embody one of these conversations. Foremost among their shared traits are their muted color palette and relatively small, human scale. While Dixon painted the American West in the first half of the 20th century, Carson worked in Southern California and taught at CSUN in the 1970s.
Two artists working on opposite sides of the country but somewhat concurrently, Edward Ruscha and Andy Warhol made prints in the language of Pop Art. The dynamic gesture and saturated palette of Warhol's screen print "Reigning Queens (Queen Elizabeth)" (1985) heighten the quiet observation of light and line in Ruscha's lithograph "Western Horizontal" (1986). Both artists use language to suggest meaning beyond the subjects depicted—Warhol's homophone raining/reigning and Ruscha's double entendre expand the interpretive possibilities.
The backbone of the collection was established early on by a generous donation of paintings, prints and drawings by acclaimed artist and CSUN Professor Emeritus Hans Burkhardt. Burkhardt continued to augment the collection with his own work and work by other artists from his personal collection until his death in 1994. Four of his paintings are included in this exhibition, dating from the 1930s to the 1950s.
Although subject to the eclectic tastes of the donors, the collection and this exhibition attest to their knowledge and refined understanding of art. On occasion, some works arrive individually — in 1975, Southern California artist Joyce Treiman donated her painting "The Secret" (1965-66) and, 40 years later, local artist Darryl Curran donated Treiman's drawing "Incident I" (1983).
Other donations come in large lots — more than 100 photographs and prints were generously bestowed by the Warhol Foundation. Prints from Cirrus Editions Ltd., an important press and gallery with a longstanding commitment to California-based artists, originally arrived by way of collector Lionel Sanders; he introduced the Foundation Commission to Jean Milant, who founded Cirrus in 1970 and donated several prints to the collection, many of which hang in this exhibition. The Museum Project, an initiative founded by CSUN Professor Emeritus Robert von Sternberg to distribute work by important Los Angeles photographers, donated two dozen works by six photography artists.
In 2016, collector and former CSUN employee Jean S. Mathy donated a variety of two- and three-dimensional artworks, including DeWain Valentine's sculpture "Circle, Blue-Grey" (1971) and Marvin Harden's mixed media on paper "Recalled surfaces…" (1979). Valentine's candy-colored, geometric, upright disk made of cast polyester resin seems an unlikely partner to Harden's dense, gestural and almost monochrome painting, but both works share a commanding, frontal and monolithic presence that resonates emotionally and visually.
Other notable gifts include about 25 prints by a group of Los Angeles-based Chicana/o artists donated by CSUN alumni, actor, activist and comedian Cheech Marin. Two of those prints hang in the exhibition: one by CSUN alumni Wayne Healy and another by Healy's friend and colleague David Botello; together they founded the East Los Streetscapers in 1975, a renowned Los Angeles muralist art collective. Most recently, the Fritz Faiss Foundation donated about 75 drawings, encaustics, paintings and woodcuts, five of which are included in the exhibition; a professor emeritus, Faiss was a German Impressionist painter and printmaker who taught at CSUN in the 1970s.
The CSUN Art Galleries and the University Foundation Art Collection Commission extend many wholehearted thanks to the collectors, donors and artists for entrusting their gifts to our stewardship.
Jim Sweeters
Director, CSUN Art Galleries